Emergency Raft Repair Kit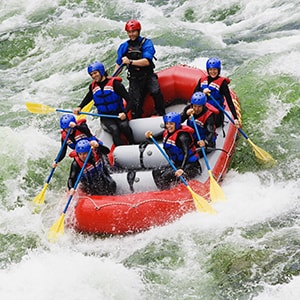 For many people, there is nothing more fun than climbing into a raft and going down a river at top speed. However, while these experiences can be exhilarating, it's also important that safety be a top priority. Because of this, it's crucial to have as part of your supplies an emergency raft repair kit. While there are many on the market today, those who know and expect quality time after time always turn to Tear-Aid as the emergency raft repair kit they choose before every rafting adventure.
Why Tear-Aid?
Made for fabric and vinyl repairs, Tear-Aid is the perfect choice for those whose rafts will be sailing down a rough river. Offering a simple, easy, and quick way to patch a hole in your raft, Tear-Aid conforms to irregular surfaces while ensuring the repaired material has no restriction of movement. Made from a tough, matte finish, Tear-Aid is able to resist punctures and tearing. Because of this, it's the first choice of serious rafters who don't want to worry about a hole developing during the rough-and-tumble ride they'll have along the way.
Advantages of Tear-Aid
Thanks to its incredible power to instantly fix virtually any tear in any surface, Tear-Aid offers a number of advantages over its competitors. Among the biggest advantages are:
–Airtight and watertight
–See-thru patch that works with all colors
–Instant adhesion means no sewing is required
–UV resistance means no yellowing
–Cuts easily to any size
–Won't turn gummy in high temperatures
By being so simple and easy to use, Tear-Aid gives rafters peace of mind while they are busy navigating their way through the rough and tumble currents. If an incident occurs, Tear-aid give rafters the confidence that they will not have to walk to the nearest safe point.
Type A or Type B?
While this sounds like a question that applies to one's personality, in this case it applies to which type of Tear-Aid works best on a raft. In this instance, the answer is Type B Tear-Aid, which sticks to most vinyl surfaces such as that found on rafts. By containing an inhibitor that blocks the oils found in most vinyls, Type B Tear-Aid always results in a long-lasting repair.
Buy Tear-Aid Today
If you're preparing for the rafting trip of a lifetime, be sure you include Tear-Aid as part of your gear. The perfect emergency raft repair kit, Tear-Aid will let you glide down the toughest river without worrying about a sudden tear ruining your plans. So before starting on your trip, visit www.tear-aid.com today to find a store near you that sells Tear-Aid, or just go ahead and order online. Either way, you'll be assured of having the best emergency raft repair kit on the market today.
Visit Our Store Locator To Find Tear-Aid at A Store Near You
About Author