Repair inflatable ads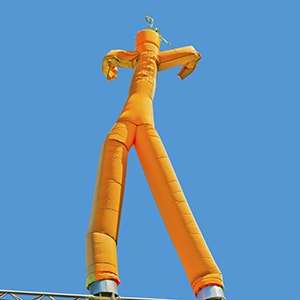 If you have a business, you know the important role advertising plays in your success. While there are many different advertising avenues, one of the most effective and popular is inflatable ads. These ads, often shaped like large balloons or banners, can be used to let customers know about a big sale, new products, special financing deals, or other things that could get customers to your place of business. However, if a tear occurs in your inflatable ad, the result can be disastrous. If you've got a situation that requires you to repair inflatable ads, look no further than Tear-Aid.
Why Tear-Aid?
A simple and easy way to repair holes and tears, Tear-Aid is great for all types of fabric and vinyl repairs. With its flexibility, it can easily conform to virtually any surface without restricting the movement of the material. Additionally, it's made from an exceptionally tough elastomer that resists punctures and tears, allowing it to be used to repair inflatable ads without any problems whatsoever.
Benefits of Tear-Aid
Considered to be a revolutionary product when it comes to being able to repair inflatable ads, Tear-Aid comes with a number of benefits, such as:
–Instant Adhesion
–Conforms to Irregular Surfaces
–UV Resistant
–Won't Pull Off When Stretched
–Resists High Heat
–Holds Air Under Pressure
Able to work with all colors since it's a see-thru material, Tear-Aid can prove to be useful with inflatable ads big or small.
An Aggressive Adhesive
Since inflatable ads are often kept outside and are subjected to various types of weather conditions, it's important to have a product that can be relied upon to have a strong adhesive. When you use Tear-Aid, that's exactly what you get. Formulated for high-bond strength, it expands and absorbs force on impact, making it virtually indestructible. Along with this, once it expands on impact, it returns to the original shape and size, ensuring the inflatable ad will always look its best.
Buy Tear-Aid Today
Rather than let yourself have an inflatable ad that gets a tear and cannot be repaired right away, purchase Tear-Aid and make sure you're always prepared for anything. Whether you buy rolls of vinyl or fabric repair patch, having Tear-Aid available at a moment's notice will give you tremendous peace of mind. Whether it's a small tear or a large hole in your inflatable ad, there's no doubt Tear-Aid will come to the rescue each and every time.
---
About Author