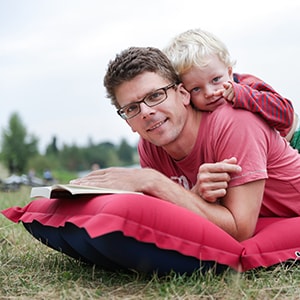 Living an active lifestyle requires getting adequate rest, and there is no better way to end an amazing day than by laying down on a quality air mattress. Unfortunately, air mattresses are subjected to some of the harshest conditions, and all it takes is one stray rock or a flick from your equipment to create a troublesome tear. Although many air mattresses come with a patch, everyone knows that they are ineffective. Since discovering yourself on the ground in the middle of the night is never good, you can save yourself a sleepless evening by using these awesome new air mattress repair kits.
What Sets Them Apart
Patches are available all over the place for air mattresses. However, these are usually not designed to work specifically on the vinyl material that is used to make air mattresses. Vinyl contains oils that eventually lead to the adhesive on lower quality patches to break down. It is also important to note that every time you move, the patch is subjected to stretching. For this reason, Tear-Aid has created a patch that works with vinyl and has elastic qualities that keep it from coming off the tear as you roll over during the night. You must use Tear-Aid Type B for vinyl.
Flocked Surface Repair
If you have a tear on your air mattress on the top of the soft felt flocked surface. It is recommended to lightly scuff the surface with a razor and clean with an alcohol prep pad before applying the patch. You will use Tear-Aid Type A for this type of air mattress repair.
Fast Application
Tears always seem to happen when you least want to deal with them, but you don't have to worry about spending all night trying to sew up a hole. Air mattress repair kits come with everything you need to quickly fix your tear so that you can get some rest. All you need to do is apply the patch to the area that needs to be repaired and smooth it down. Once it is in place, you can begin using your air mattress right away.
A Must-Have For Every Gear Kit
Too often, people think of everything they need for food, hydration and warmth, but they completely forget that they need to bring along Tear-Aid repair supplies. For this reason, stores should always have air mattress kits located near outdoor supplies so that it is at the forefront of every outdoor person's mind. These also make great gifts for any outdoor person, and your friends will thank you the first time they need to make an air mattress repair.
Being prepared for anything is a sure sign of someone who is experienced with living an outdoor lifestyle. For this reason, you should have a quality air mattress repair kit tucked into your gear bag. Whether you are a weekend warrior or a full-on survivalist, protect your gear by using an air mattress repair patch that offers years of restful nights.
Visit Our Store Locator To Find Tear-Aid at A Store Near You