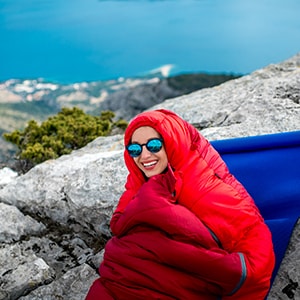 If you own a camping supply, sports or hunting gear store, you know the importance of offering high-quality products and the services that your customers need. Many avid outdoor enthusiasts have a sleeping bag, tent and other equipment that they use while camping, hunting or fishing. Survivalists and even families who like to go camping also have sleeping bags. Over years of use, sleeping bags may develop tears and holes. A professional sleeping bag repair can help you to keep your customers happy.
Convenience
Trying to hand or machine-sew a sleeping bag can be a challenge for someone who is inexperienced in working with nylon, insulated fabric and other materials. Instead of spending a lot of time trying to find the right needle, thread and other sleeping bag repair supplies, consumers can repair the bag with a Tear-Aid Repair patch.
Adds Value
Vendors who are seeking to add value to their supply and gear shops will do well with adding Tear-Aid repair patches. By offering the repair patch through the supply shop, consumers will know that they only need to go to one place to make a repair. Offering this repair patch can also help shop owners to increase customer loyalty. When a customer is dropping off a broken sleeping bag for repairs, they may also do some shopping while in the store. This could help to boost the store's sales and profits.
Environmentally Friendly
Repairing an item is more environmentally friendly than throwing it out and buying a new one. Our sleeping bag repair patch help consumers to reduce their carbon footprints and lower the amount of waste that gets sent to the landfill. A repair only requires the use of a small amount of new materials and you can stay warm and dry all year long.
Visit Our Store Locator To Find Tear-Aid at A Store Near You