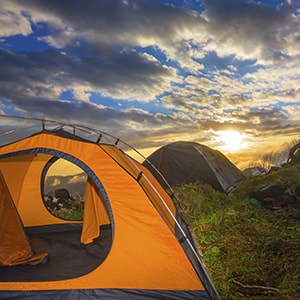 If your tent suffers a rip or tear, it could mean that you have to postpone your vacation or spend hundreds of dollars on a new tent. However, with a tent repair patch from Tear-Aid, you can put your tent back into like-new condition in a matter of minutes.
Keep Water and Air Out
As soon as you put the patch on, it creates a seal with existing tent material to keep both air and water out. This means that humid outdoor air isn't going to ruin your chances of getting a good night's sleep or that an overnight rain storm is going to cause water to pool or pond nearby. In addition to keeping water and air out, the tight seal will also make sure that bugs and other pests can't get inside either.
The Patch Is Easy to Cut
The tent repair patch is easy to cut out and place on the tear. All you need is a pair of scissors and a ruler if you want to cut out a perfect square or other shape. This means that you don't need to run to the store to buy supplies or scrap your tent altogether if you don't notice the tear until after you have arrived at your camp site.
The Tear Repair Patch is See Through
The patch material itself is transparent, which means that you don't have to worry about it clashing with the color of the tent. Therefore, it is perfect for all colors and textures, which prevents your tent from looking old or decrepit. In addition, the patch material itself will not yellow or otherwise become discolored when left in the sun. This allows you to keep your tent looking new for years to come.
Stretch the Patch Without It Coming Off
You can stretch the patch without worrying that it will rip or otherwise come off of the tent. This is ideal for those who may have small children who like to touch everything that they see or are camping in an area where an animal may try to claw or swat at the area that has been repaired.
A tent repair patch is perfect for anyone who can't afford to spend hundreds of dollars on a new tent or isn't anywhere near a camping supply store. With this emergency kit, you can make your tent look and feel like new for as long as you own it.
Visit Our Store Locator To Find Tear-Aid at A Store Near You