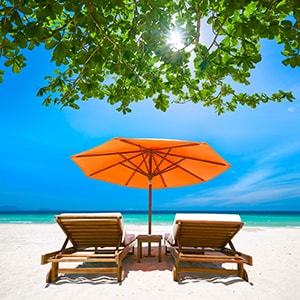 Fixing a tear was once a difficult task, and the end result wasn't always perfect. However, with new products like Tear-Aid, you can fix almost any tear within a timely manner, and without all of the hassle. There is no need to stick to a guideline or use a sewing machine. Here are some of the top benefits that you can receive when you fix a tear in fabric using Tear-Aid.
No Sewing
This is one of the top benefits, additionally the patch is elastic and will not come off when stretched. Most people want a quick fix, regardless of how big or small the tear is. With this product, you can patch the tear up without breaking out the sewing machine or sewing kit. Another plus is that the patch holds air and water.
Easy to Cut
Tears happen in all shapes and sizes, which can be hectic to fix. However, with this product, you can cut to any size using a pair of scissors. That means no more stressing over trying to find cutting devices that can cut through the patch solution, and no headaches worrying about if the patch will be small enough to cover the tear.
Apply with Ease
When you fix a tear, you probably think of sewing machines, glue tubes, and messy liquid adhesives. Well, with Tear-Aid, you don't have to worry about any of those things. This excellent fabric repair patch will help mend your pants, shirt, accessories, and gear in no time at all.
Countless Uses
This is a solution that can fix a tear in fabric of all types, including:
• Clothing
• Canvas
• Tents
• Air mattresses
• Sleeping bags
• Leather and patch fabric
• Coat covers
• and more.
If your car seats rip, or you need ventilation ducting repair, this is the solution for you. Tear-Aid is truly the patch that can fix almost anything!
Bright Colors… No Problem!
It doesn't matter what color fabric you have, the see-thru patch will work. You no longer have to throw away your favorite pair of shorts or buy a new couch and chair because of tears. Simply apply this repair patch and continue on with your day.
Rips and tears were once dreaded, but with Tear-Aid, that fear is gone. You can now welcome the challenge when it's time to fix a tear in fabric!
---
What Is Tear-Aid?
You may not have to throw away a product if it has a tear or hole in it. You can use Tear-Aid, which is a repair patch that is designed to patch holes and tears. There are several things that can be repaired with Tear-Aid including boat covers, bike inner tubes, sleeping bags, camping bags, kite board bladders, and fishing waders.
There are two types repair patches , Type A and Type B. The material that the surface is made of is what will determine the type of Tear-Aid that you will need to use. Type A can be applied to rubber, neoprene, polyethylene, nylon, plastic, polypropylene, aluminum, stainless steel and non-oiled leather surfaces. If the top layer of the product is made up of one of those materials, then you can use Type A on it.
Type B is designed to be used on vinyl and vinyl-coated surfaces. It can be applied to a wet surface, but Type B always has to be applied to a dry surface. It is very important for you to know the type of material that you are using before you use this repair patch. If you do not know what kind of material the repair needed is made from, then you can consult with the Tear-Aid Sales Consulting.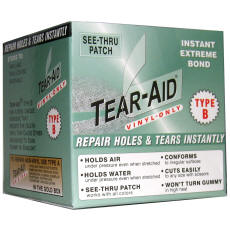 Reasons To Use This Tear-Aid
There are many benefits that can be reaped from using Tear-Aid. It is very tough and is resistant to tearing and puncturing. It is also very flexible, so it can conform to irregular surfaces. Tear-Aid can repair the damaged material without restricting its movement.
This repair patch is very durable and can hold under pressure even when it is stretched. It instantly adheres to the surface, so there is no need for messy adhesives. This Repair patch is also resistant to UV-rays. You will not have to worry about it turning yellow after years.
You can easily cut this repair patch using scissors of any size. It is a see-through patch, so it can be used on any color. Furthermore, even when exposed to high heat, it will not turn gummy.
It is a easy to use  when done properly It is important that the consumer apply the patch properly to avoid having a wrinkle or air bubble in the repair job that may make an inflatable go flat.
Application tips:
Apply the patch while the rubber float tube while it is deflated.
Since you are repairing an inflatable, It is important you apply the patch properly.
Clean area with alcohol. Let dry.
Do Not remove the entire back liner from the patch before application.
Instead, peel back about an inch of the back liner from the patch and tag it down to the repair surface. After you have your anchor set, you will pull back a little bit more of the back liner firmly rubbing down the patch as you move along your repair job.
Additionally, Tear-Aid can stretch and spring back without losing its grip.
Visit Our Store Locator To Find Tear-Aid at A Store Near You
---