Bounce House Repair Kit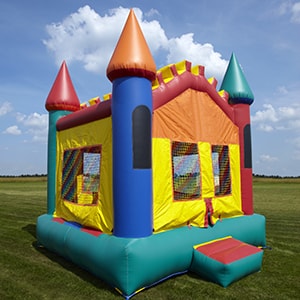 A bounce house is the perfect play area for children or adults who still think that they are children. However, a single small tear could cause it to deflate or otherwise create dangerous conditions for those inside. Therefore, it is important to have a bounce house repair kit available nearby in case of emergency.
You Don't Need to Spend a Lot of Money
In most cases, a bounce house will come with its own repair kit that contains material that matches that used in the product. However, it may be necessary to make multiple repairs depending on how long you own the product for. Therefore, it may be necessary to use more than just the starter kit you are given.
Can You Repair a Bounce House Yourself?
A bounce house repair kit is ideal for taking care of small fixes during a party or after the party is over and you have a chance to survey the damage. In a matter of minutes, you can fix the damage and either put your bounce house in storage or bring it back out to the yard for the kids to enjoy. It is important to note that the likelihood of a tear may increase if one or more adults use the product, and you should check to see how much weight it can safely hold before using it.
How Are Repairs Made?
Making a basic repair is a straightforward matter that almost anyone can accomplish. First, you look to see how large the rip or tear is that you have to fix. You can use a half soap half water mixture in a spray bottle to fine small holes. You cut the Tear-Aid to the size of the hole leaving at least a half inch overlay around all sides of the hole. When you apply the patch, you want to peel back a small portion of the patch from the backing. This is your anchor. Line the patch up with the position you would like to make the repair and firmly rub down the anchor. Then peel a little more of the patch from the backing rubbing down the patch as you move along your repair job. This is to prevent air bubbles or wrinkles from getting into your repair job. In most cases, bounce houses are made out of vinyl, which means you use Tear-Aid Type B.
If you are willing to learn how to repair your bounce house, it is something that can provide you and your family with joy and entertainment for years to come. Don't hesitate to contact us to learn more about how to protect your investment or how to order materials to keep your bounce house in good working condition.
Visit Our Store Locator To Find Tear-Aid at A Store Near You
---
About Author