Windsail and KiteBoard Bladder Repair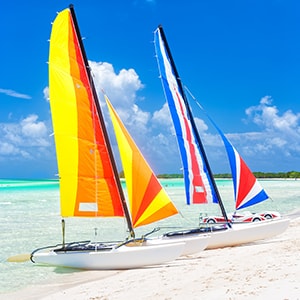 If there is one sure way to have a great time, it's spending the day on a windsail or kiteboard. Combining the great elements of being on crystal blue waters while enjoying cool ocean breezes, more and more people have started to discover these great ways to stay active. However, as with other types of recreation equipment, repairs are occasionally needed. When you are all set to hit the water for a day of fun in the sun, you may find a tear that requires your immediate attention. When this is the case, you'll need a windsail and kiteboard bladder repair kit from Tear-Aid.
Simple and Easy Repairs
Let's face it, when you are ready to have a fun day windsailing and kiteboarding, the last thing you want to face is a complicated repair. While a bladder repair may sound like an all-day job to some, the fact is it's a simple and easy repair. Using a windsail and kiteboard bladder repair kit from Tear-Aid, you'll find yourself making the necessary repairs in no time. With its very tough, matte finish and high-bond strength adhesive, you'll have a windsail and kiteboard bladder repair kit that you can count on to make your gear seem like new.
Why Tear-Aid?
Even though there are plenty of repair kits on the market for those who love the great outdoors, none have the reputation for excellence like Tear-Aid. When people wonder what makes Tear-Aid so popular with so many outdoor enthusiasts, it's no time before they start coming up with one reason after another. Some of the best reasons to use a Tear-Aid windsail and kiteboard bladder repair kit include:
–See-Thru Patch that works with all colors
–Conforms to irregular surfaces
–Instant adhesion with no sewing needed
–Cuts easily to any size with scissors
–Holds air and water under pressure even when stretched
Needless to say, when you're out in the wilderness and have a situation develop where you need to make a quick repair, having a repair kit from Tear-Aid can make all the difference. Rather than having a great day spoiled by an unexpected tear, be prepared by including a Tear-Aid repair kit as part of your gear. By going online to www.tear-aid.com, you can locate the store nearest you. You can be guaranteed to have a windsail and kiteboard bladder repair kit that will give you the results you need and expect.
Visit Our Store Locator To Find Tear-Aid at A Store Near You
---
About Author