Torn Canvas Repair Kit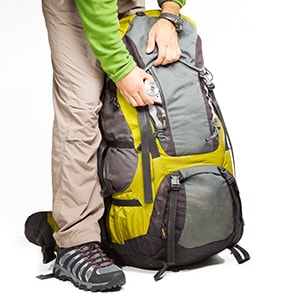 What is worse than camping in the rain? Not much, except camping in the rain when your canvas tent has a tear in it. Everything inside the tent can be ruined quickly if you do not keep a quality canvas repair kit handy while enjoying an extended stay outdoors. Being unprepared in situations like this can be costly and ruin a great trip.
Apart from a rainy camping disaster, there are a lot of other reasons to keep a canvas repair kit near by. A good kit can repair awnings, inflatable furniture, hiking backpacks, fishing waders, sleeping bags, convertible tops, and more.
How to Choose a Canvas Repair Kit
First and foremost, look for one that is the right size for the job. For small tears, that means choosing a product that comes in smaller, easy to manage pieces. Pre-cut pieces are a great option for a quick repair without any fuss. Having a variety of sizes in a single box also makes for a wise purchase so there is less cutting when in a hurry.
Second, choose a repair kit that includes all the necessary tools. By buying Tear-aid, an all-in-one type kit you reduce the chance of not having the necessary supplies, like alcohol wipes, when you need the most. Scrambling to get everything together means it takes longer to get back to your outdoor fun.
Third, choose a product with a proven record of success. Watch a review video or look at sample testing with sharp objects to make sure the kit you choose will get the job done.
How Many Kits to Keep On Hand
The best canvas repair kit is the one you can easily access in case of a tear. If you do not have it on hand, then making repairs to torn items is impossible. People who own awnings, waders, and other waterproof items made of canvas should always have at least two repair kits on hand in case of emergency. One of them can be stored with camping or fishing supplies and the other with tools so that it is easy to locate when an emergency happens.
In a perfect world, you would never need a canvas repair kit, but accidents do happen and it is important to be prepared. Make sure you have Tear-Aid Repair patches for the job next time one of your canvas items gets torn.
Visit Our Store Locator To Find Tear-Aid at A Store Near You
---
About Author