Fabric or Leather Repair Patch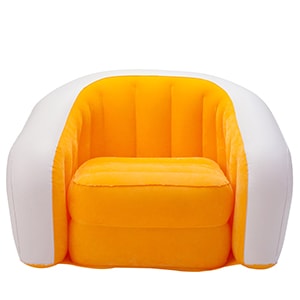 A tear on a couch from your child. A rip in a leather chair from your beloved pet. A cut in your favorite rug from moving. One thing remains unchanged in life: accidents happen. No matter how fervently you attempt to keep your household items clean and undamaged, one incident can cause you to admit defeat.
However, not all items have to be discarded after an unfortunate incident. Tear-Aid repair patches for leather or fabric are great options for:
-Tears that are in a hard-to-find location
-Small stains
-Mid-sized rips in leather
-Rips or tears that are located in a central area in which mending is impossible
-Burn spots
-Excessive fraying
Fabric or leather repair patch kits are transparent to match a wide array of textures and colors. While fabric repair patches usually mimic the look and feel of furniture material itself, leather repair patches have a matte finish.
Fabric or leather repair patch kits usually come with the following:
-(1) 3″ x 12″ standard patch that may be cut to size
-(1) 7/8″ x 7/8″ Patch
-(1) 1 3/8″ x 1 3/8″ Patch
-(2) Alcohol surface prep pads
-(1) 12″ reinforcement filament
Kits will also include an instruction manual that will explain fabric or leather preparation prior to patch adhesion and the application process. Following the recommended instructions will help ensure proper bond is obtained. The patch must be applied to non-oiled leather.
Tear-Aid Repair Patches come in different Types. The most crucial task in applying a fabric or leather patch is simply the selection process. Leather repair require using repair patch Type A. This will ensure the patch lasts as long as possible and meets consumer expectations.
Tear-Aid Repair leather repair patches are a great way to extend the life of your favorite leather couches or items
Visit Our Store Locator To Find Tear-Aid at A Store Near You
---
About Author