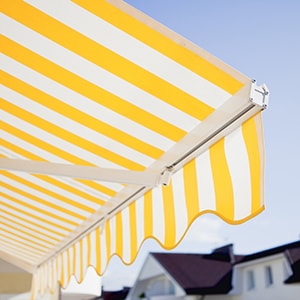 Whether you have an RV for camping in the summer or traveling throughout the year, there will come a time when you need to know how to repair the awning. The fabric is tough and durable, but normal wear and tear can cause holes or tears in the fabric. You'll need to learn how to repair the awning yourself to save money. A repair can often save hundreds of dollars, so you don't have to replace the entire awning with a new one.
Awning Removal
It's best to keep the awning on its springs. There's considerable energy stored in the spring, which could cause serious injury when not handled by a professional or experienced technician. If you are repairing the awning, there's really no reason to have to remove it anyway. The repair can be done with the awning still attached to the side of the RV.
Awning Maintenance
When you're ready to depart from camp, looking at the awning isn't usually a priority. It's unfortunate because a small hole or tear needs to be repaired immediately to ensure that it doesn't widen and become a gaping hole. After every trip with your RV, you should inspect the awning to ensure that there are no holes or tears beginning.
An awning repair kit should be stored in the RV alongside your other supplies and tools. It can be kept with the screwdrivers and other RV essentials that you take with you on every trip.
Repair Tape
Transparent repair tape from an awning repair kit is one of the greatest supplies you can have in your arsenal. Before adhering the tape to the awning material, make sure the area is clean and dry. The tape will stick better when there's a clean place to adhere it.
Sewing
A sewing awl might be an option for tears and holes that require more heavy-duty repairs. Waxed thread will keep the sides of the hole from fraying even further. If you don't want to sew the material yourself, there are tent shops that can sew it for a cost.
Extra Awning Material
For a good repair on your awning, you'll need extra material to create a patch for the awning. Often when a hole or tear develops, it becomes stretched, and the sides of the tear won't meet correctly for taping. A patch can be applied to cover the hole or tear.
The method you choose for awning repair will depend on the costs involved, the condition of the awning and whether you can repair it yourself.
Visit Our Store Locator To Find Tear-Aid at A Store Near You
---