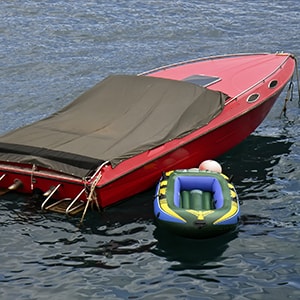 When you prepare your sailing or motor vessel to get underway, you know that certain things are essential for a safe voyage. Life vests, radios, batteries, extra lines, additional compass, first-aid kits, and drinking water are always vital, but you should also consider packing a boat cover & seat repair kit by Tear-Aid.
You may not think about a boat cover & seat repair kit in the same terms as life vests; however, it is important to remember that your boat cushions double as flotation devices. Here's something else you should also consider: members of U.S. Navy and Marine Corps special units that use inflatable craft such as Zodiac small boats include these kits in their mission checklists. Aside from your cushions, your boat may also be equipped with inflatable items that can be repaired with a Tear-Aid boat cover & seat repair kit.
There are two Tear-Aid products that you will want to include in your boat. The Type A kit is for canvas, rubber, fiberglass, and plastic materials that are generally dry and do not contain oily substances. The Type B kit is used for quick repairs of vinyl materials that have oils. The difference between these two types of repair kits is the oil-blocking inhibitor in Type B.
The Tear-Aid Solution
When you need to repair your boat cover, cushions or other items stowed away in your vessel, Tear-Aid kits offer instant adhesive action that is ideal for emergencies. You can cut the patches down to any size, and you do not have to deal with messy glue. The elastic patches are strong and resilient enough to withstand forceful stretching, and they will conform to just about any surface.
The Type B Tear-Aid kit will even allow you to make repairs to surfaces that are wet or submerged. Tear-Aid offers an special repair kit that includes a squeegee tool that you can use to push water away from the surface to be repaired; this makes the Type B kit more adequate for emergencies, but there are reasons why you should also considere the Type A kit.
Let's say you have items that need to be reupholstered in your boat; if you do not have the time or funds to carry this out right now, you can use a Tear-Aid Type A kit to stop cuts and other damages from ripping even more. If you are meticulous with your repair, it will last a long time and you will be able to apply aesthetic touches that will protect your investment.
---